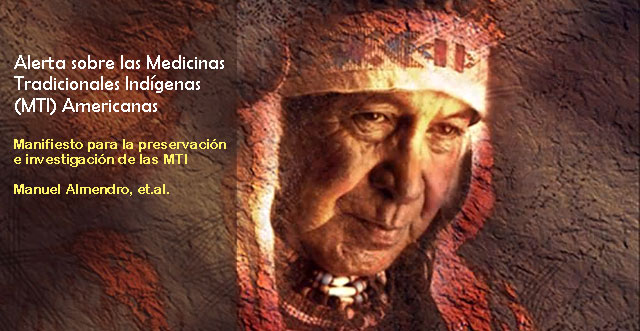 Sir/Madam,
We all know that AITMs constitute an inheritance of wisdom at the service of human beings. An inheritance essential to healing and knowledge that is beginning to be understood from the most advanced positions of scientific investigation.
But luck is uncertain when this profound knowledge finds itself faced with the impulsive world of consumption and the confusion of our day. There is an unstoppable demand for this indigenous knowledge. In order to satisfy this demand, there has also arisen a doubtful offer that puts in danger this inheritance and health. The fascination, the need to find meaning in life, and the difficulty in distinguishing truth, constitute today a crossroads whose solution is complex.
After various decades of investigating and working with this inheritance, we have been impelled to write a manifesto in order to see if we can move the consciousness of people sensitive to this inheritance. It is necessary to provide the searchers and investigators with information about the dangers that lie in wait if we put ourselves in the hands of opportunists without reservations. Thus, this Manifesto.
We ask that if you are in agreement with this Manifesto, you endorse it with your signature so that AITMs continue their course of support and expansion, clean and free from instincts of subjugation and abuse. Likewise, we would need a few lines that define your personal path. Also, if convenient, we would appreciate and welcome you to invite any people you know to join this petition.
To know the content of the Manifesto, get details of its promoters, and sign it, please click on this link. If you get difficulties to open it, make a copy of the following address on your navigator web: http://www.manifiesto-mti.takiwasi.com/indexen.php
Regards,
Dr. Jacques Mabit, medical doctor, President of Takiwasi Center, Tarapoto- Peru
Dr. Manuel Almendro, psychologist, Director of the Oxigene Center, Barcelona and Madrid- Spain
Dr. Eduardo Gastelumendi, psychiatrist/psychoanalyst, Lima- Peru