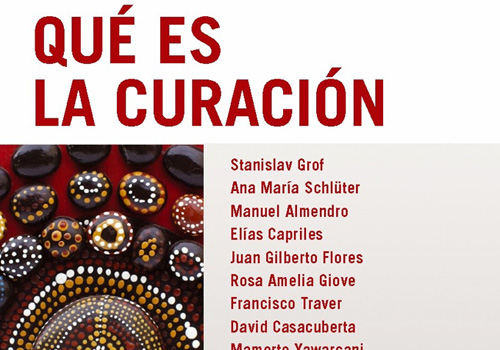 S. Grof, A. M. Schlüter, M. Almendro, E. Capriles, J.G. Flores, R.A. Giove, F. Traver, D. Casacuberta, M. Yawarcani and others.
Collection / Library of new consciousness, Kairos Publisher. Barcelona. SPAIN
Edited by Manuel Almendro
A careful selection of papers from authors who are researching into new ways around the healing and transformation.
From psychiatry, psychoanalysis, Zen, Shamanism, Dzogchen, medicine, epistemology, philosophy and sociology offering innovative proposals addressing issues of consciousness, energy, evolution and matter; discussing the relationship of dreams with the healing process, we review the applications of modern and ancient Indian traditional medicines and also raises the need for social healing.
A work that integrates the latest trends, so the possibility of change and growth, personal and social, from recognized institutions as also alternative areas.
Presentation of the Book:
18 April 2013. at 18:30. Cádiz. Book presentation by Carmen Alés, doctor, Julio Herrera, philosopher, Ángel Marcilla, psychologist y Manuel Almendro, author, at the UNED, plaza de San Antonio 2.
25 April 2013, at 19:00. Madrid. Book presentation by Andres Canteras and M. Almendro in the Salón de actos of "Colegio de Politólogos y Sociólogos de Madrid", calle Ferraz, 100.
More dates to be determined in Barcelona, Madrid and Ciudad Real.
Interviews published:
Interview to Manuel Almendro in the Journal La República of Perú, 19/03/2013 by Maritza Espinosa doc PDF
Interview to Manuel Almendro in the Journal El comercio of Perú, 31/03/2013 by Andrea Castillo doc PDF
Comments and Reviews:
¿Qué entendemos por curación psíquica? (La nodriza de las hadas y el rey carmesí)